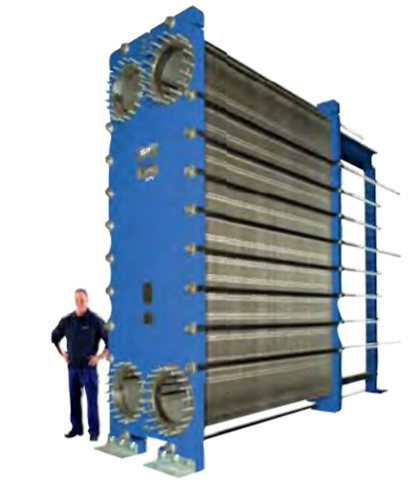 APV gasketed plate heat exchangers
A wide range of gasketed plate heat exchangers suited for crude stabilisation, dehydration, gas sweetening, and refrigeration duties, gaseous as well as liquid, and highcapacity utility cooling solutions. The optimised plate design maximises energy use and cost effectiveness thanks to high heat recovery effect.
The advantages of APV gasketed plate heat exchangers include:
Optimised plate designs for high thermal efficiency
Flexibility to reconfigure your heat exchanger solution to meet changing needs
Easy operation and maintenance – easy gasket mounting and plate alignment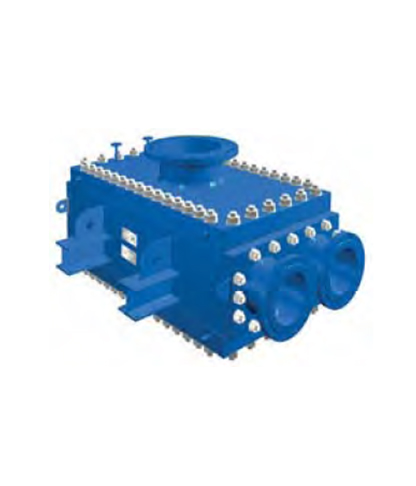 APV Hybrid plate heat exchanger
The APV Hybrid series is a range of welded plate heat exchangers combining highly effi cient, gasketfree plate-pack and a strong vessel construction. It is designed to operate under challenging process conditions where other heat exchangers may be restricted due to temperature and pressure limitations - enabling extremely low pressure drop if required. The fl exible design makes it very compact, keeping weight and installed space to a minimum. Inspection and cleaning are easily accomplished by simply removing the housing covers. The unit is mechanically cleanable on the tube side and plate side is easily CIP-cleaned.
APV Hybrid advantages include:
Flexible and compact design
Openable design for easy inspection and cleaning (tube-side)
Full utilisation of pressure drop to maximise thermal efficiency
Close temperature approach – down to 1°C (1.8°F) possible
Standard and custom solutions available
APV semi-welded plate heat exchangers
APV ParaWeld is a range of semiwelded plate heat exchangers consisting of plates welded in pairs. It is designed with welded channels allowing handling of aggressive fluids. APV ParaWeld is available with either conventional or special gaskets.
Advantages APV ParaWeld semiwelded plate heat exchangers include:
Handling of aggressive fluids
Specially designed to resist high concentrations of sour gas
Reconfiguration flexibility
Easy inspection and cleaning