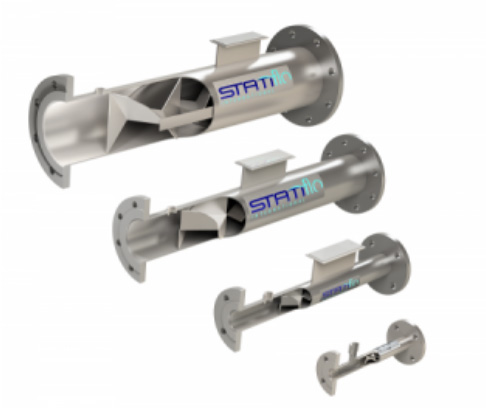 STATIFLO Static Mixer (Series 100/150)
STATIFLO General Industrial Inline Static Mixers suitable for all process industries supplied with fixed or removable mixing elements.
Usually supplied with SO or WN flanged end connections, but could equally be supplied with --plain or weld prepared ends. Screwed/threaded end connections available for smaller sizes.
Optional flanged or threaded injectors and sampling points. Optional heating/cooling jackets.
Can be supplied in all commercially available metallic materials.
Market-Leading Mixing Element Designs
Supplied with fixed STL elements (Series 100) or fixed STM elements (Series 150), with adjustable element geometry to meet your specific maximum headloss or maximum overall length requirements. For Custody Transer/Fiscal Measurement applications a specialist adapted type of mixing element is used.
Available for all pipe sizes.
Diameters from as small as DN15 (1/2″) with no theoretical upper limit.
Superior mixture qualities achievable.
Designed to achieve a Coefficient of Variation (CoV) of 0.05 or less by the discharge of the mixing elements for miscible systems – meaning you can take a representative sample at the downstream end of the mixer.
Accessories to complement.
Available with optional Statiflo Chemical Dosing Lances to fine tune the mixing performance, or with integral sample connections.
Materials to suit your requirements.
Stainless steel, epoxy coated carbon steel, Alloy C276, Dulplex/Super Duplex, Inconel or any other commercially available material.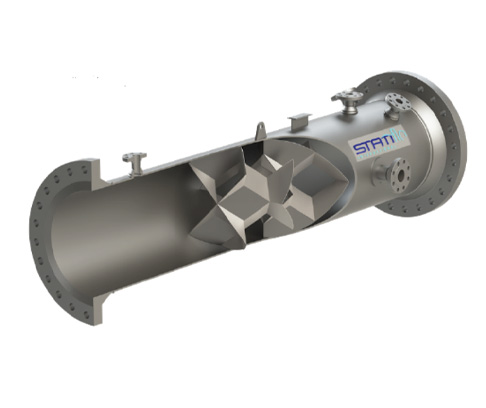 STATIFLO Custody Transfer Mixers (CT Mixers)
STATIFLO Series 100/150CT Custody Transfer Motionless Mixers are designed to be versatile enough to cover all your custody transfer applications including transfer stations, LACT skids, etc. It is of the utmost importance that seller and customer both know exactly the water content of the oil they are purchasing or selling. This can often be very difficult because even the best sampling systems in the world can only provide accurate data if they are taking a representative sample. STATIFLO market-leading dual leading edge designs can consistently achieve a C1/C2 ratio above 0.9, in accordance with ISO3171 and API 8.2 standards, therefore meaning that the water is adequately dispersed within the oil and that a representative sample can be taken at the mixer discharge for water in oil analysis. Return on investment is typically measured in months, not years. Remember – STATIFLO Custody Transfer Mixers have no direct power consumption and since there are no moving parts that means there is no maintenance requirements and no expensive spare parts.
STATIFLO Motionless Mixers - in both pipes and channels, have many important process and financial benefits for our customers:
Highly efficient mixing
Chemical savings
Low energy consumption
No moving parts for maintenance free operation
No direct motive power required
No need for tanks in most cases
Ease of installation
Minimal space requirement
Totally enclosed pipe designs
Optional injectors and sample points
Available in all sizes
Available in a wide range of materials
Custom designed
Available worldwide