SPXFLOW BRAN + LUEBBE (NOVADOS Family)
The NOVADOS Family comprises leak-free diaphragm pumps as well as plunger pumps. Nearly all gear sizes in the NOVADOS series can be combined to achieve the required flow rate and pressure parameters.
Materials of construction of liquid-wetted parts:
Housings of stainless steel 1.4571 or 1.4462, or plastic PVC or PP.
Diaphragms of PTFE or stainless steel 1.4310.
Plungers of stainless steel or ceramic.
Options: materials such as Super Duplex, Hastelloy, Titanium and other materials.
Pump gear design:
Worm gear with different reduction ratios.
Splash lubrication.
Stroke length adjustment via eccentric (Z-shape) crankshaft.
Flow rate control
Manual, electric, pneumatic or speed variation
Drive:
Electric motor with fixed or variable speed.
Other drives on request.
Installation and Operating Conditions*
Hazardous area:up to Zone 1 IIC T4 (Zone 22 upon request).
Ambient temperature range: from -40 °C up to +50 °C (special solutions upon request).
Fluid temperature range: from -40 °C up to +150 °C (special solutions upon request).
*These are limit values, please state actual conditions with inquiry.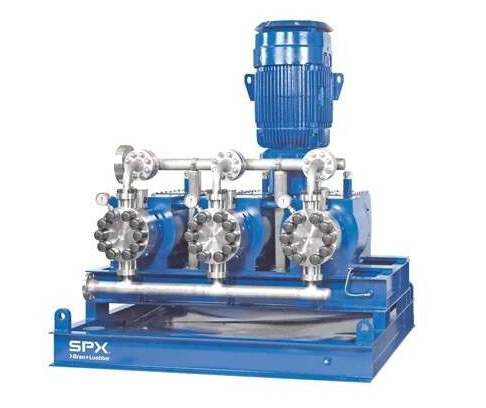 SPXFLOW BRAN + LUEBBE (NOVAPLEX Integral)
NOVAPLEX Integral pumps are powerful process diaphragm pumps for a variety of applications. They are best suited for critical high pressure installations where the capabilities of traditional metering pumps are exceeded.
Double diaphragm pump heads with
positive diaphragm position control
built-in pressure relief valve
diaphragm failure indication
Crank gears with
integrated lubrication system
anti-friction bearings
Modular concept
Integrated gear reducer
Minimized footprint
Compact design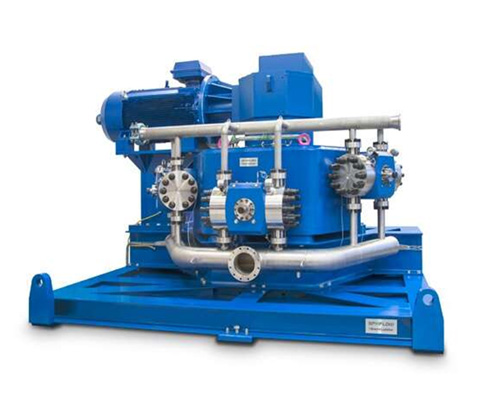 SPXFLOW BRAN + LUEBBE (NOVAPLEX Vector)
The NOVAPLEX Vector process diaphragm pump combines the reliability of the Bran+Luebbe diaphragm technology with a compact unique gearbox design. This allows for the use of a process diaphragm pump for applications where a small foot print is required. An interface for the NOVALINK CSM on-line diagnosis system is integrated.
capacity: up to 70.000 l/h
operating pressure:
up to 400 bar with PTFE diaphragm
up to 1000 bar with metal diaphragm
High reliability with proven B+L diaphragm pump technology with Positive Diaphragm Position Control (PDPC)
Flow rate adjustment by variable speed drive
Integrated interface for NOVALINK CSM on-line diagnosis system
Minimized life-cycle cost
Minimized downtime for maintenance